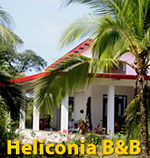 Hotel Heliconia Bed & Breakfast ecolodge is located on the Azuero Sunset Coast near the fishing village of Malena. We are a one hour drive south of Santiago, and close to several uncrowded beaches. Heliconia B&B presents an ideal base for exploring nearby Cebaco Island, Coiba Island & Cerro Hoya National Parks, offering comfortable, modern accommodations and delicious food.


Coiba Island Overnight Tours from the Azuero Sunset Coast
The Coiba Island tour package consists of one night and dinner at Heliconia B&B on the eve of departure and two nights on Coiba Island. Your return is on the third day around noon. You can take a shower at our B&B to refresh before you leave, if you leave…


10 reasons to retire in Panama © Retirement Wave by Bob Adams
Why retire in Panama? Here's the short version based on my observations and experience following thirty-eight years of living and working all over the world.


The Stay At Home Gringo – An Expat's Life In Panama
The nuts and bolts and all other kinds of screwy info about living in Panama